FIBRE OPTIC NETWORKS
Acetech Security specialise in the design, installation and repair of fibre optic networks across London and East Anglia, give us a call for more information.
fibre optic network design installation & repair services
Fibre optic cables offer many advantages over those using traditional copper cables including faster speeds, reliability, durability and many more. You should consider switching to fibre cables when you are planning a new network cable installation or an upgrade.
At Acetech we take the time to understand your needs and project requirements, and always provide free of charge advice and recommendations. Customer satisfaction is paramount to us and we always use premium quality materials. Our skilled and experienced team are highly trained and always up to date with the most recent innovations and trends in the industry. For more information or to request a quote, please complete the form and we will be in touch. 
Acetech are a network planning and implementation outsourcing enterprise based in Essex & our work covers the entire UK
We have established ourselves as an industry leader in the design, project management, implementation and 24/7 maintenance of civils and fibre optic infrastructure (FTTX, FTTP, ERS & BAU).
Our in-house engineers are fully trained and accredited, overhead and underground cable installation, optical fibre splicing, OTDR testing, PMD & CD testing.
Civils activities include, new duct installation, chamber building, duct de-silting, duct blockage clearance.
We have the latest cable blowing machinery, access platforms, splicers & testing equipment. 
Outsourced planning for your LAN or VOIP installation projects
Acetech can facilitate speedy and accurate network planning of any Wide Area Network (WAN), Local Area Network (LAN) or Voice Over IP (VOIP) installation to ensure optimum performance of both systems and staff.
Using the most sophisticated software to accurately plan your LAN is imperative – if you fail to get it right the first time then expect to pay for it later – whether that's through network outages or a slow creep in negative performance.
Why outsource your network planning?
With the complexity of Information and Communications Technology today, it pays to have someone who knows precisely what they are doing when it comes to network planning and installations.
Our constant strive for perfection throughout the  years of experience in this field means we rarely make mistakes – we believe if you hire a specialist for something then you get a specialist service without the setbacks.
CERTIFIED INSTALLERS OF CODE-COMPLIANT, HIGH-PERFORMING DATA CABLING INFRASTRUCTURE.
CAT 5E, CAT 6, CAT 6A/10G, CAT 7, CAT 7A & FIBRE OPTIC CABLING
BLOWN FIBRE
A great way to future-proof for your increasing bandwidth needs, this is an ingenious technique by which we install the outer tube for the fibre before you actually need the fibre. Once in place, you have the infrastructure for easy installation of the most appropriate fibre cores by our fully trained and equipped engineers.
Fusion splicing termination
This involves supplying 'pre-terminated pigtails' –fibre cords ready to be 'fusion spliced' into the installed cable.
FLUKE DSX 5000 series testing
This is the simple but accurate way to gauge total Db loss along a length of fibre without the need for printed graphs and technical date as provided by an OTDR.
Single mode/ OS1 & OS2
Perfect for long distance/high bandwidth applications.
Multimode/ OM2, OM3, OM4 & OM5
With the imminent advent of the 10G network the traditional Multimode Fibre (62.5µm OM1) no longer carries adequate bandwidth. UK Datacabling, therefore, prefers to work with the new generation 50µm OM3/OM4/OM5 Multimode fibre, which future-proofs your bandwidth demands.
Industries
Typical LAN & VOIP projects
Commercial Development's 

Logistic Companies.

OFFICES

New builds, refurbs, private & public sector

SCHOOLS, UNI'S AND COLLEGES

Public or private school network installations

NHS / PCT

Doctors surgeries, hospitals and private medical centres

GOVERNMENT

Local councils & MOD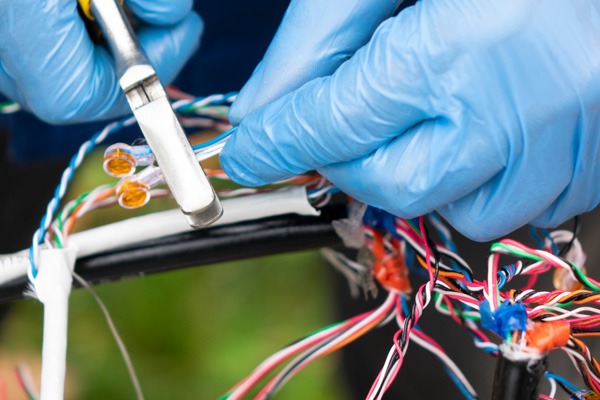 Acetech Security Ltd
Acetech Security Ltd supply, install, service and monitor CCTV, IP CCTV, Remote CCTV, Intruder Alarms including DualCom and Redcare, Access Control and Door Access Systems, Fire Systems, Wireless Fire Systems and Biometric Time and Attendance Systems to a wide range of clients across the UK.
Contact Acetech
Acetech Security has been established for over 20 years and has grown from humble beginnings to one of the most respected and dynamic security companies in the country, we are based in Colchester, Essex and facilitate the whole of the UK with security systems.
9 Dedham Vale Business Centre, Manningtree Road, Dedham, Colchester, Essex CO7 6BL
M-F: 8am-5pm | S-S: Closed