As more and more of us are using surveillance systems around our homes and property, we want to learn more about the technologies inside these cameras and how they can help us.
In this article, we will share with you everything you need to know about DarkFighterX and its uses.
Hikvision is a leading manufacturer of CCTV surveillance equipment around the world. Founded in 2001, Hikvision is in the top 800 largest companies in the world.
---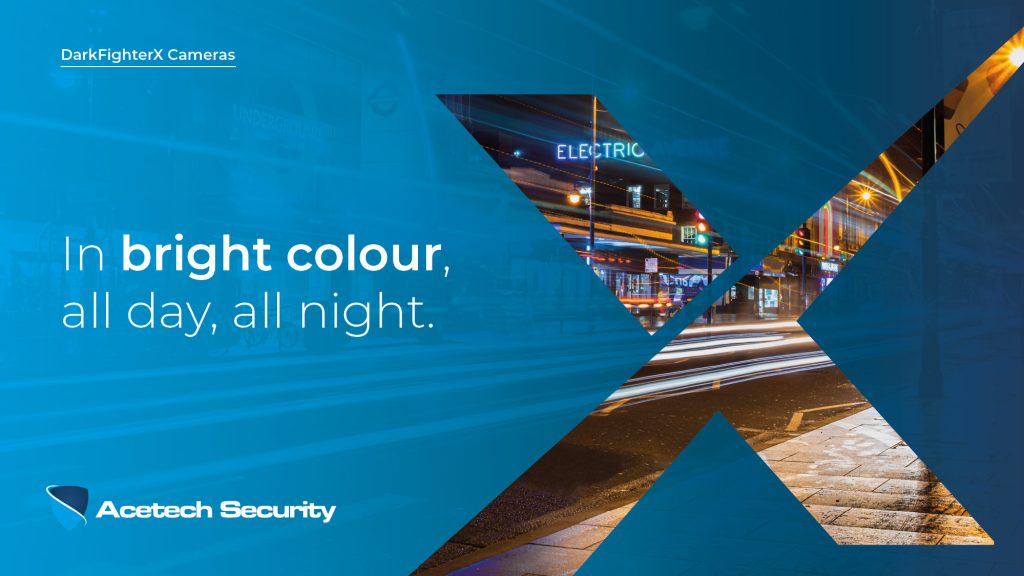 Table of Contents
Jump to a section using the handy links below.
What is DarkFighterX
DarkFighterX is a technology created by Hikvision that produces high-quality, clear images in low-light environments.
The technology is based on the bionics of the human eye. DarkFighterX uses two sensors to simulate the rod and cone cells of the human eye. In addition, the technology simultaneously acquires visible and infrared light to collect colour and brightness data.
Why we need DarkFighterX in surveillance
The average human eye detects visible light wavelengths around 500nm. In contrast, image sensors sense visible and infrared light, whose wavelength range is longer than 700nm.
Conventional cameras have limited vision in extremely low illumination environments with no visible light. As a result, they produce poor image quality with large amounts of visual noise.
Infrared light is essential to supporting the camera to lower image noise, producing clear images. However, true colour can't be guaranteed.
How does it work?
DarkFighterX technology adopts Hikvision's SpecEX technology to combine a scene's colour and brightness data. It then renders accurate and detailed high-definition images in extremely low-lit conditions.
Dual-Sensor Technology
Cameras using DarkFighterX are equipped with a dual-sensor structure that works independently.
Cone sensor – This sensor acquires visible light to collect colour data
Rod sensor – captures infrared light to gather brightness details.
Both infrared and visible light are significantly enhanced.
DarkFighterX cameras have high-light sensitivity and resolutions while providing clear images and true colour.
DarkFighterX cameras use the supplement infrared light in extremely low illuminated environments. Visible light and infrared light enter separate image sensors, forming two images.
The two images are then processed by the unique image signal processing (ISP) and Hikvision image fusion algorithm, resulting in an image of higher brightness and signal-to-noise ratio (SNR).
The challenge for CCTV in low-lit areas
Imaging in low illumination has always been challenging in the video surveillance industry. Although some cameras meet the basic requirements for surveillance, they fail to work well in extremely low-light environments.
Switching to infrared mode leads to colour data loss. To produce an all-weather full-colour image, Hikvision developed a technology based on the human eye, DarkfighterX.
Applications
DarkFighterX breaks the limitations of traditional surveillance cameras by providing clear imagining in poor lighting conditions. As a result, DarkfighterX cameras are used for a broad range of applications, including:
Local authorities for use around towns, parks and buildings

Government Institutions

Petrol Stations

Retail Parks

Car parks

Airports

Borders
Further Reading
If you'd like to learn more about Hikvision DarkFighterX, here are some useful links to official articles and documentation.
About the author
Acetech Security is the leading provider of security solutions across the Southeast. We help business, organisations and homes to secure their property with state of the art CCTV installation and intelligent systems.
Did you find this article helpful?
Easily share this article with a friend or colleague using the social share links below.
Ready to start your next project? Get in touch with our team