CCTV Systems
CCTV systems involve a network of cameras with a central recording hub to provide security from intruders. In addition, camera systems provide flexible security solutions, allowing you to select the number of cameras and channels required for your property. As a result, CCTV Systems are popular security features for residential, commercial and industrial settings.
Acetech Security offers an extensive range of CCTV enabling you to choose the best storage capability and image definition for your needs. If you're unsure about what CCTV system is right for your property or business, get in touch with the Acetech experts.
CCTV Frequently Asked Questions
What is a POE CCTV system?
A Power Over Ethernet (POE) CCTV system is a wired system that relies on a POE cable for power and data transmission. Both the data and power is transferred via the same cable.
This greatly aids the installation process as you can be more flexible when choosing a location for the camera as there is only one cable to worry about. In addition, POE CCTV systems are reliable and consistent as they are not affected by Wi-Fi interference.
Which type of CCTV system is best?
Every type of CCTV system has its advantages and disadvantages. The most popular CCTV systems include Dome Cameras, Turret Cameras and Bullet Cameras. However, there are also PTZ, Wide Angle and Fish-Eye Cameras available.
Depending on the size and scale of your business, you may want to opt for a mixture of PTZ cameras and fixed dome cameras to cover larger areas. PTZ cameras can be controlled remotely to move up and down and zoom in for greater detail. In contrast, dome cameras offer discreet installation and coverage.
Does CCTV work in darkness?
Absolutely. Providing the CCTV system you choose includes cameras with an infrared light feature. This light switches on automatically when natural light levels drop. Infrared light can also provide a clear image despite foggy conditions.
Can CCTV work without Wi-Fi?
Yes. There should be no issues. In most cases an internet connection is only required if you wish to access the footage remotely.
How much does a CCTV camera cost?
The price of CCTV systems vary greatly depending on the model you choose. For example, a Fish-Eye camera is more expensive than the Turret model as they provide an ultra-wide angle lens capturing dynamic viewing angles. This greatly reduces blind spots and increases coverage whereas Turret cameras can only monitor the close surrounding area.
All our CCTV system costs include comprehensive, secure installation starting from just £474.
Can you install CCTV yourself?
Although it is possible to install a CCTV system independently, we advise against this. CCTV systems are a substancial investment, if you install them yourself, you risk damaging the equipment whilst handling it.
Additionally, you may have to use a step-ladder to reach surfaces at height such as ceilings or windows. This poses some serious health and safety risks as you will not be sufficiently trained in the installation process.
Leave it to the professionals, our installation engineers are fully qualified and ready to help install your new CCTV system today.
Can we see CCTV on mobile?
If you have a strong, reliable internet connection, you should be able to link your CCTV footage to your mobile via an application or weblink. This will allow you to monitor your CCTV footage from remote locations via your mobile phone. 
However, please bear in mind that the system may not be able to connect once you travel outside of a certain radius.
Which is better wireless CCTV or wired CCTV?
Wireless CCTV
These are typically easier to install, adjust and operate. Collaborates with cloud storage which can be viewed anywhere. 
However it can be unreliable as Wi-Fi has a tendency to drop in and out, which can affect the system's ability to record consistent footage. It is also more susceptible to hacking.
Wired CCTV
This is more reliable and secure as it does not need to rely on a remote connection as it is hard-wired in. You will receive more consistent video quality as it will not be interrupted by connection issues. 
Wired CCTV cameras are more private and secure and far more difficult for external sources to hack into.
Does CCTV always record?
As long is there is storage available, your CCTV system will always be recording unless there is a power cut or you manually switch off the system. 
If the storage backup is full, your CCTV may begin overwriting the earliest recorded footage. Therefore, always ensure you download the footage you require before the storage is used up.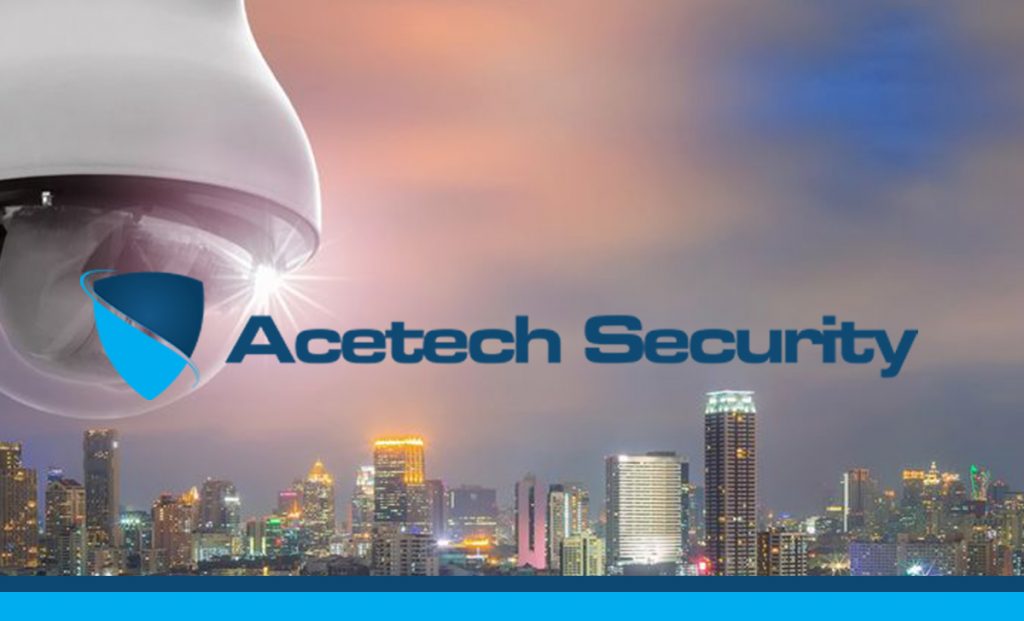 Leading suppliers of cctv security systems
Acetech Security are an established supplier and installer of CCTV systems. Based in Essex, our teams provide security solutions for residential, commercial and industrial properties and sites across the UK.
Acetech Security provide bespoke security systems and CCTV kits for commercial clients designed around the customer's needs and budgets, clients range from very small to extremely large organisations providing critical infrastructure services.
For local CCTV systems, take a look at our CCTV Cameras in Essex.
As security experts we know how important it is to have a reliable Burglar Alarm fitted within your property. We provide cost-effective and superior burglar alarm systems suitable for any type of property.
Our alarm systems are effective deterrents to burglars, and offer 24/7 protection to help you avoid the emotional trauma of being a victim.
.
Comprehensive security surveillance SERVICES